Interactive experiences via Touch Screens
Touch screens are now an integral part of our everyday life, since almost everyone owns a smartphone and therefore is also able to use a touch screen with ease at work or during a transaction at a store. It is no surprise that a new touch screen is being installed around the world every 21 seconds, whether in an office, public service, bank, hospital, retail store etc. Whenever there is a need to inform, communicate and interact, touch screens can prove quite beneficial for both employees and customers/visitors.

With touch screens, you can create a phygital experience for your visitors, able to meet even the most demanding expectations of Omni-shoppers/Millennials. Touch screens give you the opportunity to provide self-service digital services and promote your messages in the most attractive way. Use them to enhance interaction with your visitors/customers, as well as increase sales of products and services. At the same time, touch screens are an intuitive tool that increases your employees' productivity and reduces human errors.
Just choose the right screen size and make the most of it, by adding or removing peripherals (for example barcode scanners, NFC-RFID readers etc.)
Self-service Boot Finder kiosk at Boot Barn retail chain

Video Case Study on the Elo Touch Screens soultion at DeRoyal

Elo Video Case Study - Toyota Car Dealership
How to effectively use Touch Screens in Retail, Healthcate etc.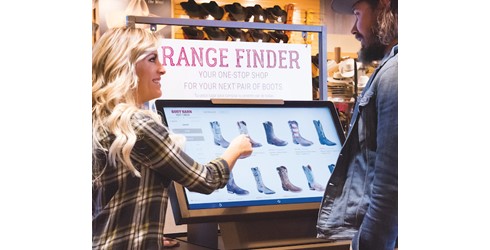 Digital Signage of the store

Promotion of special product offers

Better instore promotion of the brand or campaigns

Online orders within the physical stores

More product details available, in case the customer wishes to check, while instore

Gift Lists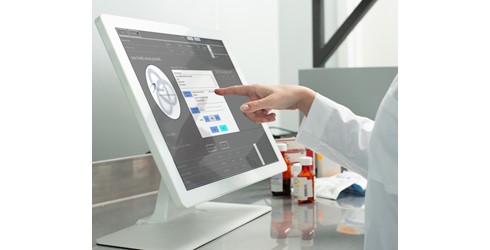 Self-service check-in and payments for patients
Track record of medical history, doctor's observations etc. within the patients' rooms
Management of doctors' availability
Control of visitors and temperature check
Surveys on patients' satisfaction or on other topics
Faster and more efficient procedures on data exchange related to patients
Promotion of selected services or awareness campaigns
More detailed information regarding the patients' progress and therefore better compliance with the doctors' recommendations
Decrease of wait times and improvement of patients' care
Elo Touch Screens and why to get them from Mobile Technology
In Mobile Technology, we promote the touch screens of Elo; a company with more than 40 years of expertise in this field, +400 international patents and 25.000.000 installed touch screens in 80 countries. More specifically, we provide, install and support touch screens and their accompanying software, plus develop/support independent software and web applications (Android & Windows), when required.
To find out more, contact one of our representatives.